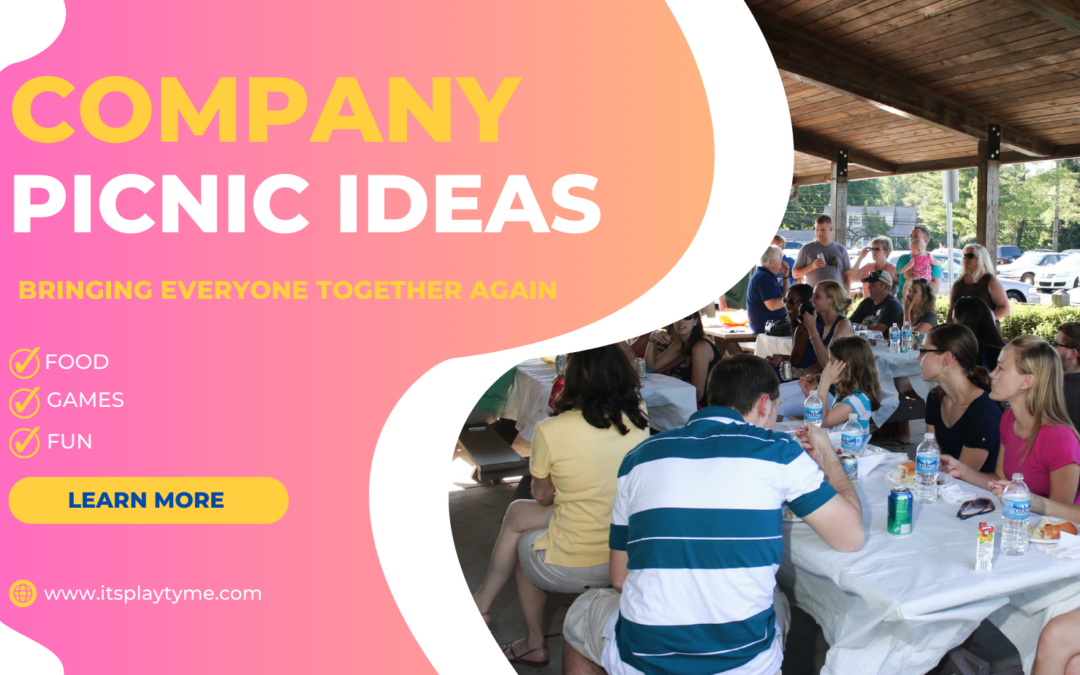 Are you an organizer, currently brainstorming, searching to find fun company picnic ideas for an upcoming summer event?  Look no further.
Hosting a company picnic not only provides an opportunity for employees to relax and unwind, but also reflects the values and culture of an organization.
Therefore, finding the right balance of fun company picnic ideas and activities that are in line with company values can be a real challenge.
However, with thorough research, references, and creativity, planning a memorable and enjoyable summer event is definitely achievable.
One of the ingredients to a successful picnic is catering.  Providing delicious food that everyone enjoys is crucial, and there are numerous local caterers that specialize in providing high-quality picnic fare.
In addition to food, you must think about finding fun company picnic ideas that can be implemented, such as field day-style games, outdoor movie screenings, and live entertainment.
It is also important to consider the location and time of day for the picnic in order to maximize comfort and enjoyment for all attendees.
Fun Company Picnic Ideas

How Important Are Company Picnics?
Company picnics are an investment in employee satisfaction and productivity.
It provides a unique opportunity for employees to come together in a casual setting, providing an important outlet for team building. Such events can foster a sense of community among colleagues, helping employees to interact with one another more freely and build stronger relationships outside of the workplace.
Furthermore, games and activities provided during the picnic can help employees relax and break down barriers, increasing communication and collaboration between team members.
The chance to work together in a non-work environment can help employees feel more comfortable with each other, which can increase productivity and overall work satisfaction. Additionally, company picnics can also serve as a reward for hard work and dedication, boosting morale and motivation among employees.
Company picnics are a valuable investment in the well-being of an organization and can pay dividends in terms of increased teamwork productivity.
By seeking opportunities to facilitate team building, employers can help their staff to function more efficiently, paving the way for greater success and progress. As such, companies who invest in such outings can reap a multitude of benefits, ultimately benefiting both their employees and their bottom line.

Are Company Picnics Still a Thing?
Are company picnics still a thing?  Should our company invest in one?
In a world that's constantly changing, the answer to this question isn't as straightforward as it once was.
While picnics may have been a popular way for companies to bring their employees together in the past, modern workplaces have undergone significant transformations that demand new approaches to team-building.
On one hand, the pandemic has presented a unique obstacle that's made in-person gatherings difficult to facilitate. On the other hand, remote and hybrid work arrangements have led to a disconnect among employees which means virtual events may not suffice.
According to recent Gallop reports, only 15% of employees are engaged at work.  So, are company picnics still necessary? The answer is that it depends on the individual organization and its goals.
For companies that prioritize cultivating a positive work culture and strengthening relationships among team members, picnics may still be a valuable investment. However, it's critical to consider the current health and safety protocols, as well as workers' preferences and availability, before organizing any in-person events.
Ultimately, the decision to plan a picnic or opt for alternative team-building methods must be made with careful consideration and a thorough understanding of the organization's unique needs.

What Are Some Benefits of Company Picnics?
Company picnics can be highly beneficial for organizations in several ways.
First and foremost, it provides a perfect platform for team bonding.  Employees get to know each other better in a relaxed and informal setting, thereby fostering better collaboration and communication in the workplace.  This unique opportunity to interact with colleagues can significantly contribute to creating a more positive and cohesive work environment, which in turn, can improve productivity and employee morale.
Moreover, company picnics encourage employees to step away from their routine work and engage in fun activities, which can relieve stress and improve work-life balance. This can result in a more creative and motivated workforce that is enthusiastic about taking on new challenges.
Last, company picnics can serve as a way to express gratitude and appreciation to employees for their hard work and dedication. This can help in boosting employee loyalty and commitment to the organization. In conclusion, company picnics can be a worthwhile investment for any organization looking to strengthen its team and foster a positive work culture.

What Factors Determine a Good Company Picnic?
A company picnic is not just a casual gathering of employees, but an important corporate event that reflects the culture and values of the organization.
A good company picnic should be well-planned and executed.  One must take into consideration the diverse needs and interests of the employees.
The location should be chosen with care, ensuring easy accessibility and sufficient facilities for everyone.
The menu should be diverse, accommodating different dietary preferences and providing fresh, nutritious options.
The activities should be engaging and inclusive, promoting team-building and camaraderie, and providing opportunities for everyone to participate.
A sense of community and appreciation, recognizing the contributions of the employees.  It should be an occasion for relaxation and fun, but also a platform for networking, learning, and personal growth.
A good company picnic should represent the company's investment in the well-being and happiness of its employees.  Ultimately, a good corporate event should reflect its commitment to creating a positive work culture.
Planning a Successful Company Picnic

Planning a successful company picnic requires a meticulous approach to ensure a memorable event.
Step #1` – The first step is to determine the objective of the picnic. Is it a team-building exercise, celebrating a milestone, or simply a social gathering for employees and their families?
Step #2 – Once the objective is clear, the location, date, and time can be decided upon. It is important to choose a place that is easily accessible, spacious enough to accommodate the attendees.  Make sure the venue has amenities such as restrooms and shaded areas.
The date should be selected keeping in mind the weather, availability of employees, and other events that may coincide.
The time should also be carefully chosen to avoid conflicting schedules and ensure maximum participation.
Step #3 – Next, it is time to plan the activities for the day. These could include team games, contests, or even performances by employees or their families. A caterer must be hired to provide food and beverage options that will suit the dietary requirements of everyone.
Last but not least, ensure safety and emergency procedures are in place. A first aid kit, designated parking spaces, and security personnel should be arranged for as well.
Planning a corporate picnic may appear to be a simple task, but it requires thorough consideration to ensure success.
Company Picnic Activities
When organizing a work picnic, finding fun company picnic ideas can be a challenge. However, with the right party picnic planning and team building initiatives, you can create a memorable event for your colleagues.
Picnic Activities – Let's Play!

These activities play a crucial role in strengthening team bonds and building better relationships among coworkers:
Human Foosball:  Participants strap themselves onto a giant inflatable field and work as a team to kick the soccer ball towards the opposing goal, while being restricted to their designated rows. It's a hilarious and action-packed game that guarantees plenty of laughs and friendly competition.
Giant Inflatable Obstacle Course – participants navigate through a series of larger-than-life inflatable obstacles, climbing, sliding, and crawling their way to victory.
Team Trivia – its time for some brain teasing challenges from pop culture to history to entertainment to sports.  You may want to turn it up a notch by booking professionals to come and facilitate the game with fun questions and props. 

Giant Jenga – this intense classic game is where strategy and balance takes center stage.  Players must carefully remove and stack oversized wooden blocks creating a tower that reaches very high heights.  There is a great amount of tension amongst the players with each strategic move.  All in attendance are awaiting the exciting moment when the tower eventually falls, filling the air with laughter and applause.
These games are not only entertaining but also encourage teamwork and competitive spirit.
Venue and Location of a Company Picnic
First, make sure to consider the number of people attending the event.  Then decide on location, amenities, capacity, availability, and activities offered.
The location and venue will have a significant impact on the success of the event, so choose wisely.
Don't forget to consult with your team to gather their input on what they prefer in terms of location and activities as well.
Make sure the venue can accommodate all guests comfortably, and that it has appropriate facilities such as restrooms, parking, and space for the activities planned.
The ideal location should provide ample space for recreation and entertainment, be easily accessible, and have adequate amenities.
Cost-effective locations are in high demand these days, so choosing a venue that fits within the company's budget is very important,
Ensure that the venue aligns with your company's values and is accessible to everyone.  Don't forget those with mobility needs as well.
What is the Ultimate Purpose of Having a Company Picnic?
The purpose of a company picnic goes beyond simply providing employees with a fun outing or a break from work. A company picnic provides an opportunity for employees to connect with each other outside of their usual work environment, strengthening workplace relationships.
It can also foster a sense of unity among employees, promoting teamwork and collaboration. Additionally, a company picnic can help boost morale, as it shows that the company values and appreciates its employees and their hard work.
By organizing a well-planned and enjoyable picnic, the company can demonstrate its commitment to employee well-being and work-life balance. Moreover, a company picnic can be a valuable tool for recruitment and retention of employees. When employees are happy and engaged at their workplace, they are more likely to remain loyal and committed to the company.
The purpose of a company picnic is to create a positive and inclusive work culture, which can lead to greater productivity, creativity, and overall success for the company.
Key Takeaways
We understand as an organizer, it can be a daunting task to plan and execute a memorable company picnic.
Many companies struggle to come up with unique and engaging company picnic ideas that cater to the needs of all employees.
A well-thought-out, planned, and executed picnic can help boost morale, foster team building, and enhance overall employee satisfaction.
When it comes to choosing suitable picnic ideas, it is crucial to consider factors such as location, number of attendees, budget, and food preferences.
A picnic amongst colleagues can be a good opportunity to introduce a fun activity that everyone can participate in.
For instance, a scavenger hunt or outdoor trivia can be an excellent way to promote teamwork and encourage interaction among team members.  Ultimately, make your event unique by creating personalized games and activities that align with your company's culture and values.
With this in mind, you can create a fun company picnic that promotes positive relationships and camaraderie within your organization.
The success of a company picnic depends on thoughtful planning and execution, with an emphasis on creating an atmosphere that aligns with company values and culture.
Need Help with a "Fun" Company Picnic Game?
If you need help planning these kinds of festive activities for your next company picnic, look no further.  We travel all over the NYC Metropolitan area, such as, New Jersey, Philadelphia, and Connecticut.
We come to your location, set up with all props, and facilitate activities for your employees.
Feel free to contact us, as we have a plethora of fun games and challenges used at any summer corporate outing,
We offer free consultation and explain how it works in 3 simple steps.  The best part is, no deposit is required upon booking, Let's Play!