Game Shows for Corporate Events
The Ultimate Corporate Event Hack – Live Game Shows!
Ever thought of injecting some fun and friendly competition into your upcoming corporate events?
Do you really want to give your organization an opportunity to come together, get to know each other better and bond like never before?
This page will give you a brief description of our in-person interactive games, fast paced challenges, trivia themes, and puzzles to satisfy the competitive nature of your group.
Your team will work together on improving communication and building a sense of camaraderie all within an hours' time using the "game show" concept.
By adding a fun element to your corporate event or meeting, you'll create an office culture that's upbeat, creative and positive. Employees will feel appreciated and motivated which can lead to increased productivity, job satisfaction and retention.
It's Playtyme Game Show has activities that are a great enhancement to any corporate event, team meeting, conference and/or social function. Our shows offer some of the best motivating exercises to boost employee morale that eventually build stronger relationships and increase productivity.
It's imperative for team leaders/managers to create a healthy work environment while reinforcing company policies and procedures in a more creative way. Good news for you, we have the solution.
It's our mission to entertain, educate and make your corporate event much more engaging, effective and, fun.
Corporate Events Organizers book us for:
Annual Awards Dinner
Annual Sales Kick-off
Launch Parties
Retirement Parties
Staff & Client Appreciation
Summer Outings
Team Building
Training and Development
Trade Shows
4 Game Shows to Consider for Your Corporate Event
Bye, bye boring corporate events and welcome a world of fun, excitement, and engagement with of our most requested game show formats below:
Face-2-Face Feud – Summer Social Events
It's time to get your survey skills on point with this classic game show. Challenge your co-workers to guess the most popular responses to survey questions related to your company culture or industry. It's a great way to bond, use critical thinking skills and just plain have a good time.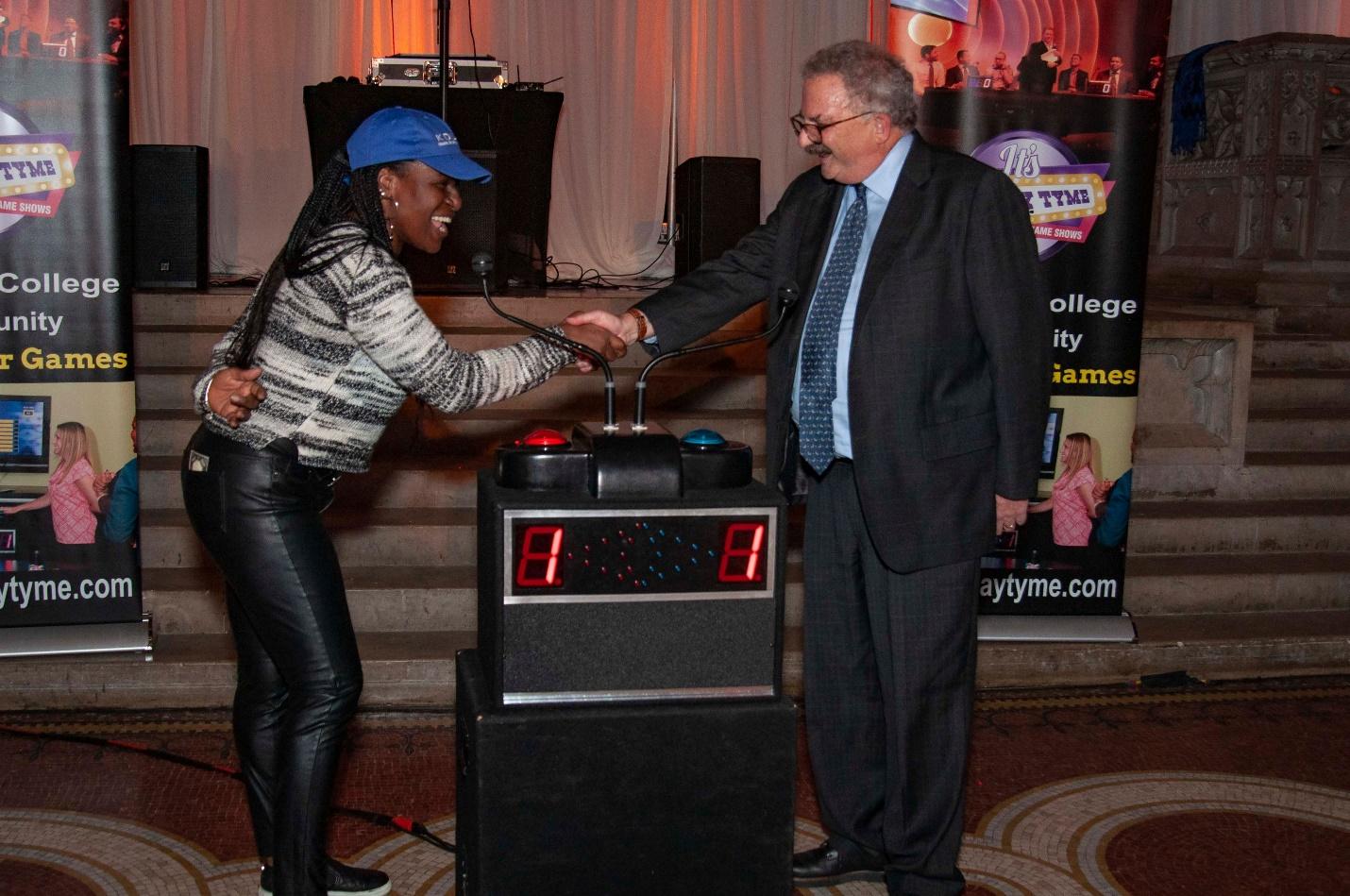 Game Show Mania – Experiential Marketing Events
Put your team members' knowledge to the test with custom quizzes and puzzles that are tailored to your industry, company culture, or current events. These quizzes are a great way to get everyone thinking, collaborating, and having a blast in the process.
60 Seconds of Fame – Team Building Events
This high-energy game show concept is all about speed and precision. Set up a series of fun and challenging physical or mental challenges using household items. The goal of completing these tasks should be under a minute. This game is a great way to build teamwork and problem-solving skills, and just have a ton of fun.
Word Play – Staff Appreciation Events
This is our version of the very popular tv game show "Wheel of Fortune" where contestants spin the digital wheel to determine the value of each letter they guess in a word or phrase. The goal of the game is to solve the puzzle before the other players and win the grand prize. Teams are formed for this game, it's not played individually.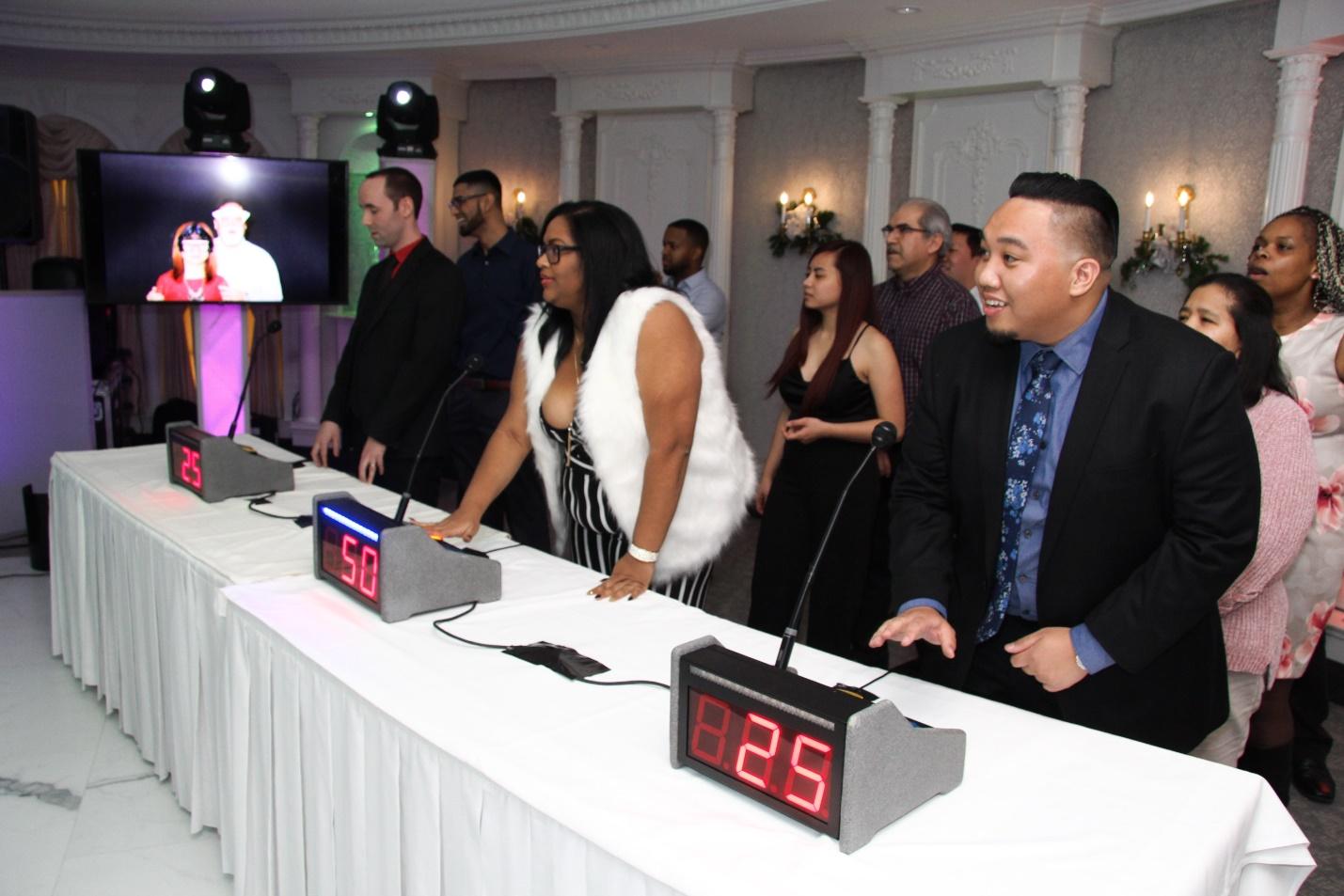 Booking It's Playtyme Game Shows for your next corporate event can be an excellent way to create a fun, engaging, and memorable experience for all. Let's Play!