Milestone birthday coming up?  Surprise your friends and family by organizing Game Show Themed Birthday Party.
Who do you know that has a milestone birthday, anniversary or graduation coming up?
Organize a high-end, game show themed birthday party.
This idea is very unique that offers fun, excitement and can be easily adapted to play at home in many cases.
One should start out by sending customized game show invitations to their guests.
Whether your event is based on a specific game show or not, be very creative by giving a nostalgic feel when choosing decorations and a particular game.
Family Feud & Game Show Mania Trivia
The organizer booked us as a surprise for the entire family. The birthday boy had no idea that they were going to play a real live version of "Family Feud" at his party.
He would watch Family Feud every night before he goes to work.
This was a real special treat for him.  His wife was such an important part of coordinating this milestone event.
She wanted to create an event that will have the family talking years later.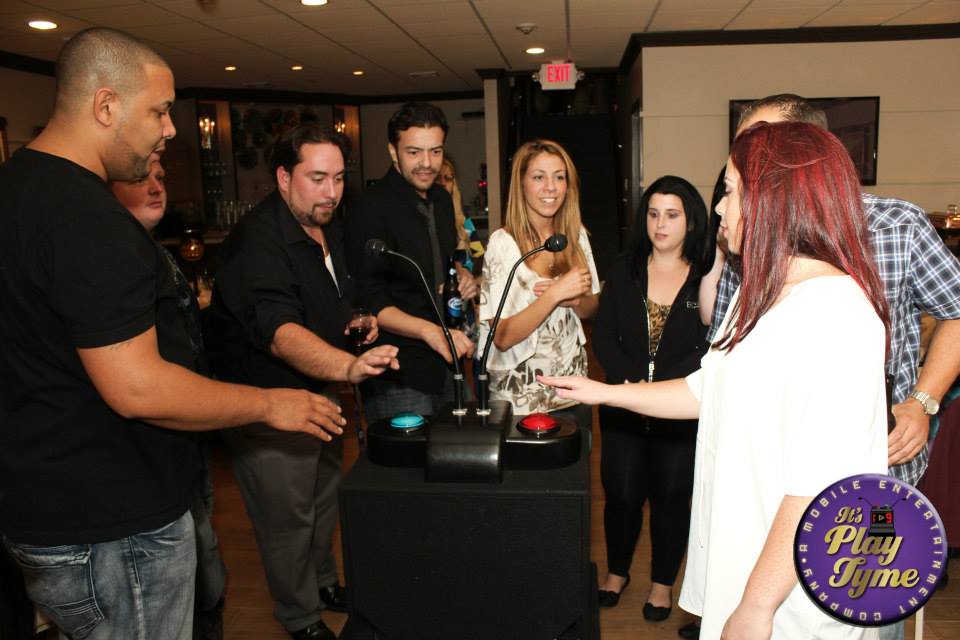 After a few rounds of feud, we moved onto a round of family trivia.
This was hilarious because they gave us questions, pictures and videos from a few decades ago and looking back everyone involved was quite embarrassed.
We test the knowledge of the entire family and from their answers, they didn't remember much.
Throw a "Game Show" Themed Birthday Party
Milestone birthday coming up and looking for Game Show Birthday Party?
If your looking for something fresh, fun and new then look no further as we are one of the best interactive entertainment companies in your area.
We have innovative ways to celebrate that milestone occasion. We will make sure to give your birthday party all the bells and whistles it deserves.
It would feel like magic's in the air with us, in the background, making it all happen. We are able to coordinate small home parties to large game show theme extravaganzas.
However big or small, we will make your celebration come alive.
Our shows will make the guest of honor feel like royalty for the day which is one of the most memorable gifts one can give.
Some of the important things you may want to keep in mind, is your theme, number of guests, venue, and outstanding live entertainment.
The Entertainers
Our team of entertainers has setup several game show themed birthday parties recently. We planned a live version of "Family Feud", "Trivia" or "Jeopardy" with customizable questions about the guest of honor.
Since millions of people watch these game shows every night, this was a real treat for them to be able to play at a milestone birthday party.
After a few rounds of feud, we moved on to a round of family trivia.  We ask for questions, pictures and videos of the past til present so all family members involved are willing to participate.
Planning a Milestone Birthday Party? 
Let me tell you, the best thing about hosting a game show birthday party is the fact that it's very interactive and gets most if not all attendees at your gathering involved.
Contact us or call us directly at 201-357-2979 for more information.  Let's Play for your Birthday!