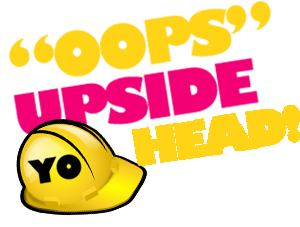 OOPS UPSIDE YO HEAD – Comedy Game Show
The OOPS UPSIDE YO HEAD comedy traveling game show is very, very, silly and loads of fun.
This game is perfect for meeting icebreakers, cocktail hour or meet and greets.
There is nothing on television like it.  Crazy thing, if you fly out to Vegas and/or Atlantic City, you just may be able to catch a few shows with a similar format.
The objective of this team building game is to make the audience laugh out loud or even scream out loud. It's  classic entertainment and comedy rolled up in one activity.
Here's the kicker, all players must wear colorful, wireless hard hats.
These hats are actual game show buzzers that will light up when contacted.
The contestants will have to hit themselves over the head with a HARMLESS noodle to answer all kinds of outrageous trivia questions, puzzles and challenges.
Oops will make you smile, laugh, and yes, ladies and gentlemen, it's like having your very own Three Stooges meetup in 2018.
We have the latest and greatest in trivia technology in the New York City, Tri-State area.
The game gets even more competitive because if you are unable to answer a particular question, you can WHACK your opponent upside their head, and they will have to answer or lose a point.
People who have a competitive nature will love this game.
THIS IS HOW WE DO IT – Rules
Six to eight random players are chosen to "come on down," either to the front of the room or on stage.
Those players will have to be fast thinkers, fast doers and even faster with their hands to lock out before other opponents.
So, let's see if you can dance, sing, improv, you name it, we just may ask you to do it.
One has to have a good sense of humor to book this type of game show; it's not for the introverts. Prizes are given to only the winner with the most points at the end of the round.
Let's Play!