FACE 2 FACE FEUD
Team Building/Employee Engagement Surveys
Level up your next corporate meeting and/or team building event with our hilarious Face-2-Face Feud game show.
It has feud style survey questions and your group has to give the most outrageous, yet popular answers to ultimately win the grand prize.
Most people are quite familiar with the classic game show, Family Feud, that has been on prime time television for almost 5 decades now. 
Since the show first aired on ABC in 1976, it has had several hosts yet is currently one of the most popular game shows on television today.
If you are wandering what makes this particular game show so popular with it's viewers, it's due to being highly interactive, engaging, and hysterically funny surveys.
This is our specialty, brining you even more than what's on television. 
We guarantee that your group will never stop talking about our game show activity for as long as they work for your company.  
Read below for more information on how the game is actually played.   
Getting Started – Three Survey Questions Per Round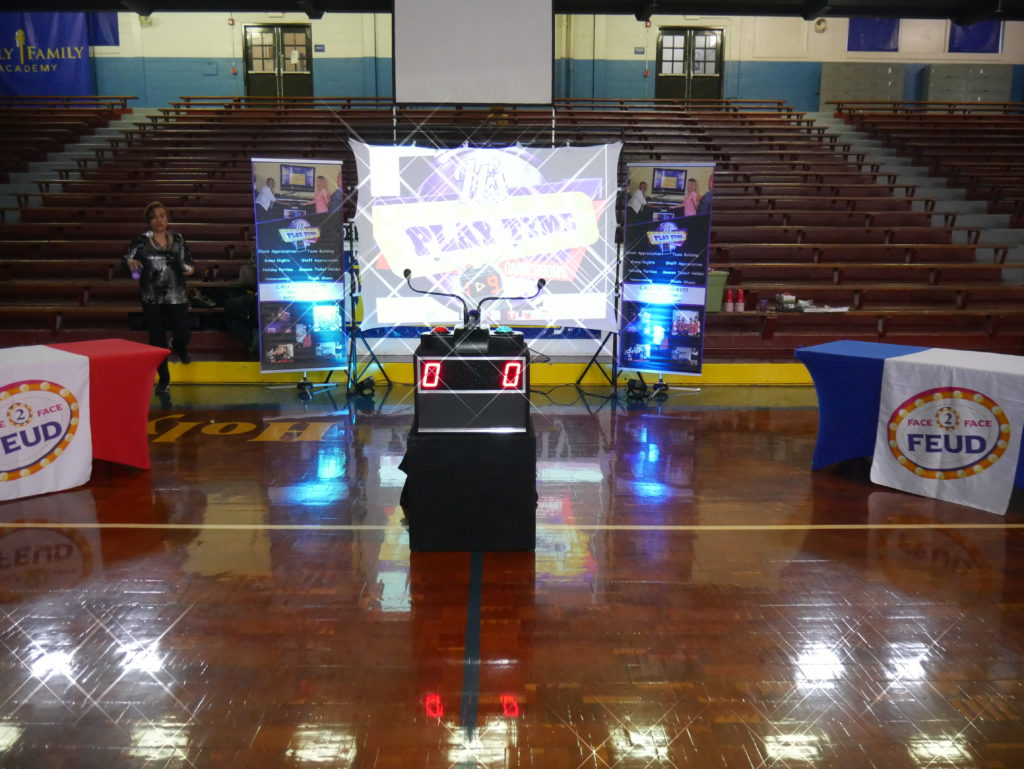 We've decided to create our own version of this popular game show and offer it as an team building activity and/or entertainment addition to any corporate, college or private event.
The event planning industry now has something new to offer their potential and long-term clients. This game show takes away the heavy responsibility event planners have in the coordination of their event.
We can create a Face 2 Face Feud game show that fits your particular needs in a variety of ways.  It's completely up to you.
1 – We can customize the survey questions to where random surveys are strictly company related, great for training.  There's also an option to ask funny and/or general questions to keep the audience highly engaged. 
2 – We have a FAST & FURIOUS tournament shows available for guests over 100 – 150 people.  This is our "ALL PLAY" program.
3 – If your event consist of more than 200 people, and you want all attendees to play.  We have audience response keypads to accommodate that. 
The only caveat to our show is, there is no "Fast Money" round.  Sorry to say folks, but, we don't have 20,000 nor a car to give away, but as an alternative, we will replace that round with either music trivia, a physical challenge or lip sync competition.
There are a lot of twists and turns to this particular game show, which makes it the #1 choice for new and old clients for the past 7 years.
In our Face 2 Face Feud game, there are two teams consisting of 5 players per team (aka families/contestants). 
These teams will challenge one another to guess the most popular answer to various fun survey questions asked to 100 men and women. If you choose a 60 minute game show package, there will only be 3 surveys of play. 
If you have a larger audience, then we suggest booking more time so that more attendees can participate as well.
ROUNDS 1-3
The very first round starts out with the captain from each team approaching the podium. 
The host will ask the question and the contestant that hits the buzzer the fastest with the most popular answer has a chance to either control the board or pass the question onto the other team/family.
Only the designated captain may give the answer after consultation. If this answer is on the board, this family wins the round and is said to have "stolen" the points from their opponent; otherwise, the team which played the board keeps their points
SEMI FINALS – Tally Up Scores
Once we repeat all three rounds of play (only difference is the point value of the survey answers) scores are tallied up from each team and the two families with the highest score will face off in our final round of play. 
Sometimes, we include a wild card team to join the semi-finals. 
This wild card team is a family that either got the lowest score or is an extra group that were unable to participate in our regular round of play.
FINALS – Music Trivia, Physical Challenges or Lip Sync Challenge.
To end the game show with a big bang, we may switch things up by adding a music trivia round, a 60 second physical challenge or hold a hysterical Lip Sync competition.  It's your choice.
If your not interested in playing any of the aforementioned games, then we will add "one" more Face 2 Face feud survey to decide the grand prize winning team.
So you can stop scrolling now, don't hesitate any further.
Give us a call today at 201-357-2979 and inquire about Face 2 Face Feud competition or our list of other exciting team building challenges.
The other option you have is to go directly to our contact us page and fill out a form (prices start at $2,000) and we will reach out to you within the next 24 hours.
Let's Play!