Game Shows for School Assemblies
It's Playtyme has transformed the traditional (boring) school assembly programs into a high-energy, exciting, Live Game Show fun.  School Principals, Teachers, and PTO Presidents in the NYC metro area has been put on notice.
This page will highlight some of the most requested shows for school assemblies to date.
It's PlayTyme Game Shows is a traveling entertainment company that has designed several educational school assembly programs for students K-12.
We cover spelling, math, science, history, or any awareness program upon request.
Our game shows give educators the opportunity to tap into the pulse of their student body using the art of play!
5 Benefits of a Fun Game Show Activity
1 – Break up the Monotony
We provide a great way to break up the monotony of traditional lectures or presentations. With some creativity, we can customize a show that will create a memorable experience for students to remember for years to come!
2 – Break Down Barriers
Our game shows are great for breaking down barriers between classes or grades, as it encourages collaboration between all students regardless of age.
3 – Awareness Programs
Instead of booking the same old lecturers, that put students to sleep, perhaps you may host your next awareness program with some excitement.
By incorporating interaction among the students, parents, teachers and administrators are able to cover pertinent material, but in a lighthearted and entertaining way.
4 – Educational Programs
Our educational games can cover "STEAM" material which can be customized, if requested.
We also promote class vs. class, grade vs. grade, boy vs. girl, teachers vs. teachers and any combination you have in mind.
We work very closely with an appointed educator to create the best possible questions and responses.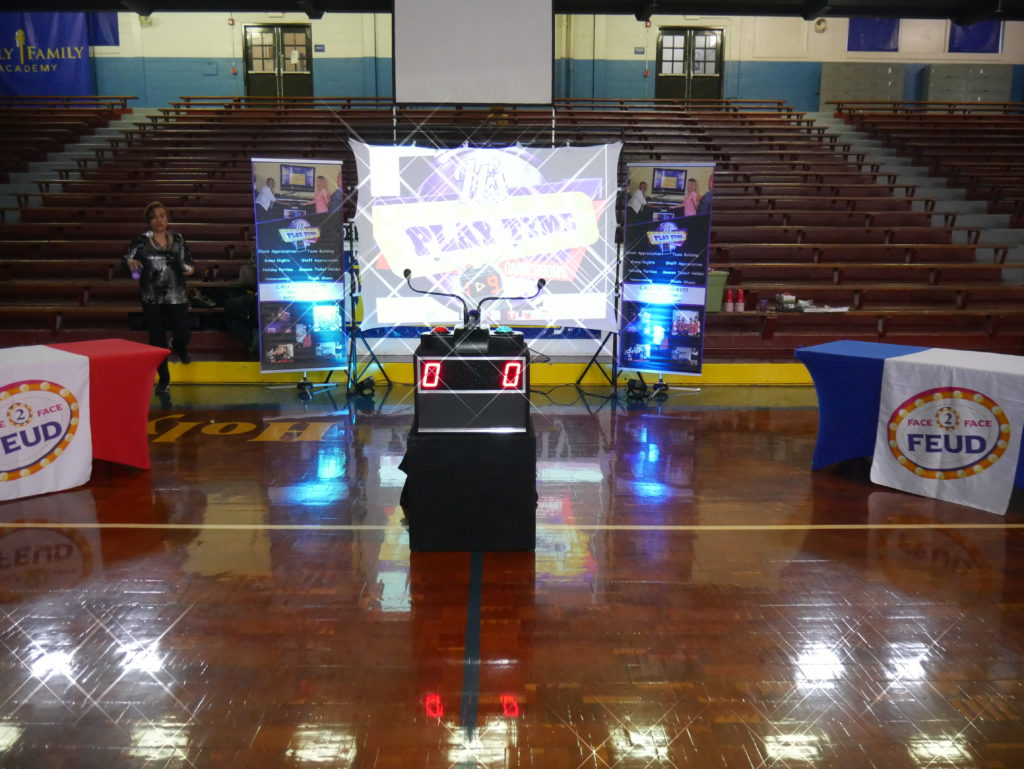 Our Most Requested Themed School Assembly Programs
If you're looking for new ways to spice up your next school assembly and engage your students, look no further. It's Playtyme turns up the heat with our interactive activities, based on the most popular TV style game shows.
Here's an overview of some of the best game shows that can be played in a 45-minute assembly.
Let's take a look at some of the most exciting game shows available.
1.  Face 2 Face Feud
This is a family feud-style game show that pits two teams of students against each other in a fast-paced quiz. The host asks a series of survey questions and the teams try to guess the most popular answers.
The teams are awarded points based on how many of their guesses match the actual survey results. First team with the most points at the end of the round wins. Plenty of audience participation and opportunities for the kids to showcase their knowledge and teamwork skills.
 2.   The Challenge
For all jeopardy fans out there, you can coordinate a show of your own that pits three groups against each other.  Students pick a category and point value, and then the question is "up for grabs".  Whichever team hits their button can answer and will win or lose the points if their answer is correct or wrong.  This fun assembly game can be used with general questions or specifically for educational purposes.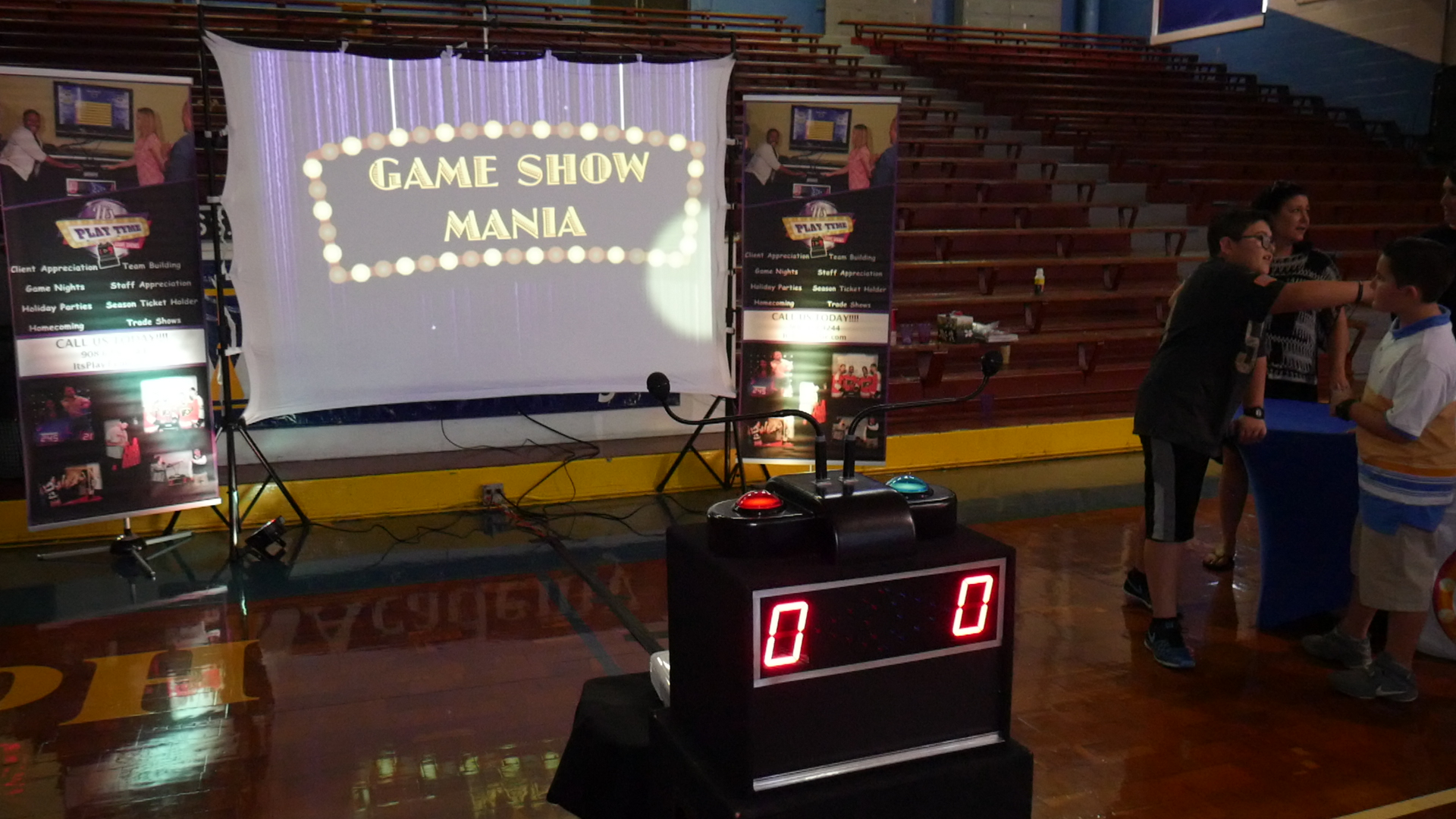 3.   Word Play
You are now able to have your very own Wheel of Fortune-style game at your next event.  Add, edit, and bring your own slogans, TV shows, Movies, and popular catchphrases.  This is the ultimate word game of life.  Students will electronically "spin the wheel" to decide the point values of their letter guess.  Correct letter guesses are filled in on the big puzzle board, you can "buy a vowel" too!   The first person to figure out the phrase wins their points against the other team. For your assembly, it can be called "Word Play", prizes ribbons or bragging rights only.
 4.   60 Seconds of Fame
This game show it a minute to win it style activity.  It's a wonderful way to break the ice for team bonding/school spirit.  It is high intensity, fast-paced, high-energy beat the clock show. This definitely brings out the competitive spirit!
There are five simple but nerve-wracking table top games using common household or office items. Challenges aren't too difficult but require good communication and strategy,  Four teams will compete for the chance to move on to our "Final Round of Play".


Choosing Appropriate Games
The great thing about interactive games is that they can be tailored to any age group or skill level, so you're sure to find something your students will love.
When picking out a game, think about what type of energy you want your students to have. Are you looking to encourage participation? Do you want them to stay active and engaged? Or do you want something more relaxed? Once you've figured out the tone, it should be easy to pick out a game that will fit right in with your assembly.
Make sure that the game is appropriate for the size of your group. If there are too many players for one game, consider splitting them up into smaller teams or playing multiple rounds. That way everyone can get into the spirit of friendly competition and have tons of fun!
Keeping Everyone Engaged

When it comes to interactive games for school assemblies, keeping everyone engaged is key. To do this, there are a few tips and tricks you can use.
Establish Rules
First, make sure the rules are clear and concise so that everyone understands how to play. You can also add an element of competition to each game by offering prizes or rewards for the winners. This will encourage students to stay focused and have fun with the game!
It's important to establish a few ground rules about how the students should interact with each other — no pushing or shoving! Encourage everyone to work together and support each other as they take on their challenges — after all, teamwork makes the dream work!
Create a Friendly Atmosphere
Another way to keep everyone involved is by creating a friendly atmosphere. Make sure everyone feels comfortable participating and offer lots of encouragement. Keep your energy up throughout the game and show your enthusiasm – that way, your students will be more likely to stay focused too!
Lastly, don't forget to keep things fresh. By changing up the games occasionally or adding new challenges, you'll be able to keep your students fully engaged in the activities at hand. This will ensure that every assembly is a success!
How We Prepare for your School Assembly
Before we actually start the assembly program, there are a few things to consider. We take the time to properly prepare a week in advance, so you can ensure that the assembly goes off without a hitch.
All of the rules will be announced before of start each game. teams enough time to strategize on how they're going to tackle the challenge at hand.
We make sure to have backup plans and extra activities in case something goes wrong.  Everyone can still have fun no matter what happens.
Conclusion
Live Game Shows are an effective and fun way to energize a school assembly.
By taking the time to choose the right game, preparing for the assembly, and setting rules and regulations, you can ensure that everyone will be engaged and have a great time.
Props and accessories can also add an extra layer of excitement and make the game show even more authentic and enjoyable.
Give your students the chance to participate and become a contestant in something they only get to see on TV or stream on their phones.
Let's take school assemblies and student engagement to the next level this year!
Be bold, get creative with your next school assembly!  It's Playtyme is sure to bring a smile to every face in the room, guaranteed.
Need help with planning a school assembly?
It's Playtyme Game Shows has a lot to offer educators and is one of the most sought after companies to provide something new, engaging and unforgettable for students.
Don't' delay, contact us at 201-357-2979, to learn more about our exciting programs and how you can implement them, easily, in your school assemblies.  Let's learn and play!