An icebreaker game is a type of activity or exercise that is used to help people get to know one another, build relationships, and become more comfortable in a group setting. They are commonly used in team-building exercises, corporate training, and other group events. Icebreaker games can take many forms, such as group discussions, group activities, and interactive games. Some examples of icebreaker games include Two Truths and a Lie, Human Knot, and Name Game. The main goal of icebreaker game is to help people relax, and feel more comfortable interacting with one another.
Why Fun Icebreaker Games are "The Best Kept Secret" for Productive and Engaging Teams?
Icebreaker games are considered the "best kept secret" mostly because of employee participation and their willingness to play. These games make employees feel more appreciated, valued, and included which ultimately will lead to more productive meetings, better decision making and problem solving.  You can plan to include icebreakers at any meeting, retreat and/or special occasion
What are the Benefits of Using Fun Icebreaker Games?
A key benefit for using Icebreaker games at team meetings is to help reduce stress and tension by creating a more laid back/relaxed environment. These games can help employees let their hair down, forget about work, even if it's just for a few hours and focus more on creating camaraderie and having fun.
Research shows, another benefit of Icebreaker games is to improve communication, break down barriers and promote teamwork. The team members who participate will establish more open and honest communication during these exercises. They will get to know one another's communication style better through the art of play.
Adding a fun interactive icebreaker game at the beginning of a team meeting can be impactful by helping to create cohesion. By encouraging employees to talk, play and interact with one another can help increase employee's sense of belonging within the organization.
More importantly, Icebreaker games will show employees that their employer truly cares about their mental health and overall wellbeing.
How to Choose the Right Icebreaker Games?
What's the Purpose?
When choosing the right icebreaker game, it's important to have a specific goal in mind. What is the purpose?  What do you hope to achieve with this game? What outcome are you looking for? Do you want to encourage camaraderie or teamwork? Develop new relationships? Lighten the mood a little bit? Once you know what you're looking for, you can choose a game that supports that objective and gets everyone on the same page.
Group Size
When it comes to icebreaker games, the size of your group can make a big difference. It's important to choose a game that fits the number of participants. Whether it's a small group or a big group look for games that can accommodate a crowd and get everyone involved. But if you have a smaller group, you might want to go for something a bit more intimate and engaging.
Time – Short and Sweet
Consider the time you want to spend on your icebreaker game. You want to plan enough time for everyone to get involved, relax, have fun, and maybe even learn a little bit more about one another. You don't want to spend the whole day playing games, or maybe you do, right? So decide on a timeframe that works best for your team and choose a game that can be played within that timeframe.
Venue Size, Location
Where will you be playing this icebreaker game? Take enough time out to consider the right venue and make sure the game you choose has adequate space to play. You want to make sure everyone has enough room to move around, interact with each other, and not trip over any chairs or tables. So look at the space and choose a game that fits.
Outside Vendors
Who will be leading these icebreaker games? Will it be an inside or an outside professional? Do you have enough in your budget to hire an outside team-building facilitator? It really depends on what you're looking for in regard to your icebreaker experience. If you're looking for a more structured, and possibly even more impactful experience, then you may want to hire an outside facilitator. They can help guide you and bring more experience, creativity, and a fresh perspective to the table.
Materials and Equipment
Finally, depending on whether facilitation will be in-house or not, make sure you've got all the materials and equipment you need for the icebreaker game. Pens, paper, props, and maybe even some music should be considered. Make a checklist so nothing is forgotten on game day.
To help you on your journey of choosing the right icebreaker, we compiled a list below of seven interactive games you may be interested in. These games are fast pace and very high energy. We are guaranteed to wake up your group either prior to the nuts and bolts or afterwards. Take into consideration that an outside facilitator will be required to run these games effectively.
7 Fun Indoor Icebreaker Games That Rock!
1.  Face-2-Face Feud
This is a family feud style game show that pits two teams of contestants against each other in a fast-paced interactive quiz. The teams are typically made up of coworkers who are competing for a cash prize.
The game is played in front of a live audience, and the host asks a series of survey questions to the teams, who then try to guess the most popular answers.  The teams are awarded points based on how many of their guesses match the actual survey results.
The team with the most points at the end of the game wins the round. The game is designed to be fast-paced, extremely funny, with plenty of audience participation and several of opportunities for contestants to showcase their general knowledge and teamwork skills.
2.  Game Show Mania – Elimination Trivia
This game show is for those that love all kinds of trivia, yet, are terrified of elimination.
It's a live interactive experience with fun and stimulating/thought provoking questions that emulates popular game shows from the past and present. Players are divided into teams and compete against each other in games. The teams are led by a facilitator who emcees the event to make the experience fun and engaging. The game is designed to be interactive, with plenty of audience participation, lots of laughter, and the teams are awarded points based the last man standing. The person who is last standing at the end of the game wins the grand price for their team.
3.  The Challenge

For all jeopardy fans out there, you can coordinate a show of your own that pits three teams against each other. Contestants pick a category and point value, and then the question is "up for grabs". First individual/team to hit their button can answer and will win or lose the points if their answer is correct or wrong. This activity can be used with general questions, product knowledge questions or as a review of previous training. This activity works very well with all types of group sizes.
4.  Word Play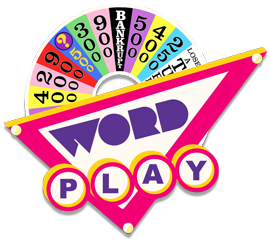 You are now able to have your very own Wheel of Fortune style game called "Word Play" at your next event. Add, edit and bring your own slogans, TV shows, Movies and popular catch phrases. This is the ultimate word game of life, similiar
to hangman. Contestants electronically "spin the wheel" to decide the point values of their letter guess. Correct letter guesses are filled in on the big puzzle board, you can "buy a vowel" too! First person to figure out the phrase wins their points. For your team builder, it can be called "Wheel with no fortune", prizes are bragging rights only.
5.  60 Seconds of Fame – Minute To Win It
This is a wonderful way to break the ice at any event. These challenges are great for team building as well. It is high intensity, fast-paced, high-energy beat the clock kind of game. This definitely brings out the Competitive Spirit!
Individuals will compete for the chance to move on to our "Final Round of Play".
There are five simple but nerve-wracking games using common household or office items. Challenges aren't too difficult, but this activity throws the contestants off because they start off by answering a series of trivia questions then are thrown into a physical activity. With only 60 seconds on the clock, the pressure builds, and pride is on the line people race to achieve glory.
This customizable program can include games unique to your organization or can include access to our vault of games tailored to your specific needs and goals.
A sure-fire winner, 60 Seconds of Fame works as both a complementary event or as a stand-alone event for teambuilding fun.
6.  Ooops Upside Yo Head

This game is more of a comedy 3-stoges style exercise and is very, very, silly. Your group must have a sense of humor when playing this game.
The objective is to make the audience laugh out loud or even scream out loud if they choose to. It's classic entertainment and comedy rolled up in one game.
Here's the kicker, all players must wear colorful, wireless hard hats. These hats are actual game show buzzers that will light up when contacted.
The contestants will have to hit themselves over the head with a HARMLESS noodle to answer all kinds of outrageous trivia questions, puzzles and challenges.  Oops will make you smile, laugh, and yes, ladies and gentlemen, it's like having your very own Three Stooges meetup in 2023.  We have the latest and greatest in trivia technology in the New York City, Tri-State area.
The game gets even more competitive because if you are unable to answer a particular question, you can WHACK your opponent upside their head, and they will have to answer or lose a point. It's perfect for highly competitive people who like to have fun.
7.  Name That Hit Song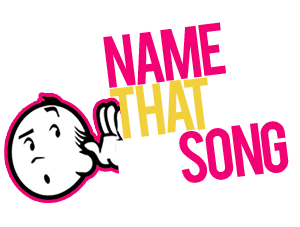 This game is a carbon copy of the hit TV game show "Name That Tune". This game is played trivia style where you will hear 10-15 seconds of a song and will have to name either the artist, the producer or year that song hit the billboard charts. It's has similar rules like the current "Beat Shazam" game show on FOX where contestants attempt to name the hit song faster than the shazam app. The team that can name the hit song correctly within a certain amount of time and accumulates the most points, wins the grand prize.
Key Takeaways

If you're looking to create a more cohesive, engaging and more relaxed work environment for your team, you may consider including our fast and furious fun icebreaker games for the next meeting.
In closing, these games are much more effective by hiring an outside facilitator to help set up, coordinate, and manage the activity properly. Allow someone else to assist and ensure the activity goes off without a glitch or a hitch. Best of luck.
Need Help with Planning an Icebreaker Game?
Let us help.  We got you covered. If you need a step-by-step guide to help plan an icebreaker game for your next team builder or event, contact us immediately. We have a plethora of fun exercises and challenges to choose from that don't require a deposit upon booking,
Don't Delay. Let's Play!