So, you have the daunting task of planning your next TEAM BUILDING EVENT OR TEAM BUILDING ACTIVITY? You've already done the weekend retreats, or spent and afternoon at the golf course? Now your faced with the task of creating this year's team building event, oh what fun that is.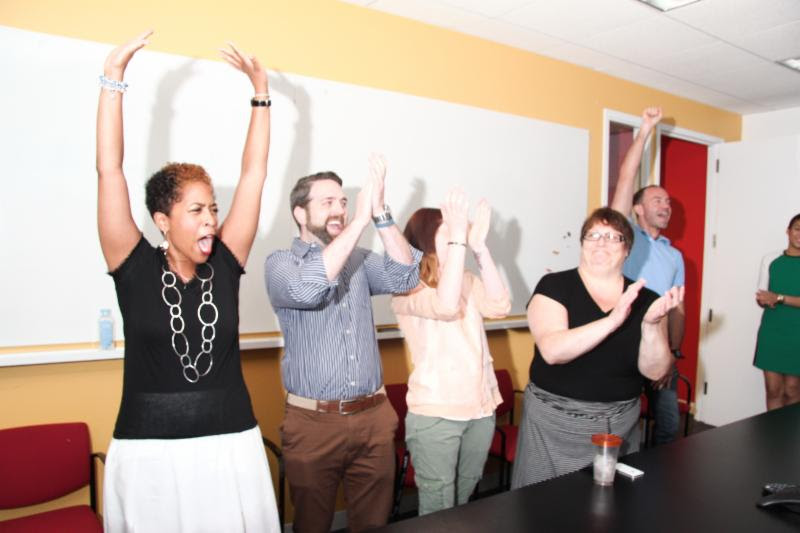 Have you ever thought about having a LIVE GAME SHOW activity for your employees/clients?   It's truly the ultimate icebreaker that gives your employees/clients the opportunity to enjoy solving puzzles, trivia questions and/or surveys.  If you like to watch "Family Feud", "Wheel of Fortune" and "Jeopardy", think about hosting your very own show.  As the saying goes "A Company That Works Together Stays Together"
Team Building Games – Planning
The Best Bonding Experience
For Co-workers
Press PLAY
Elimination Style Game Show
Wild & Wacky Team Building Activity
Does your employees/clients need more interesting and interactive activities, games & music to help keep their interest and productivity levels up?  If they do, why not have some fun for a change, look at this lady right here, this is her #WINNING dance.  We will get you up on the dance floor after our game show activity, guaranteed!

It's PlayTyme Game Shows' objective is to help event coordinators bring live interactive entertainment to their clients.  Our company offers one of the best game show team building activities in the New York City tri-state area and the best part about that, it's at a price that can fits every corporate budget.
You can throw away those dvds, index cards and powerpoint slides because we have the actual lights, microphones, buzzers and sound equipment to give you the authentic feeling of being on a live television game show.
So, let us help plan your next team building extravaganza.
We can help.  Book a live game show experience!
Contact us for further details.
For Immediate assistance by text – 917-670-4689
No deposit required.  We look forward to hearing from you.