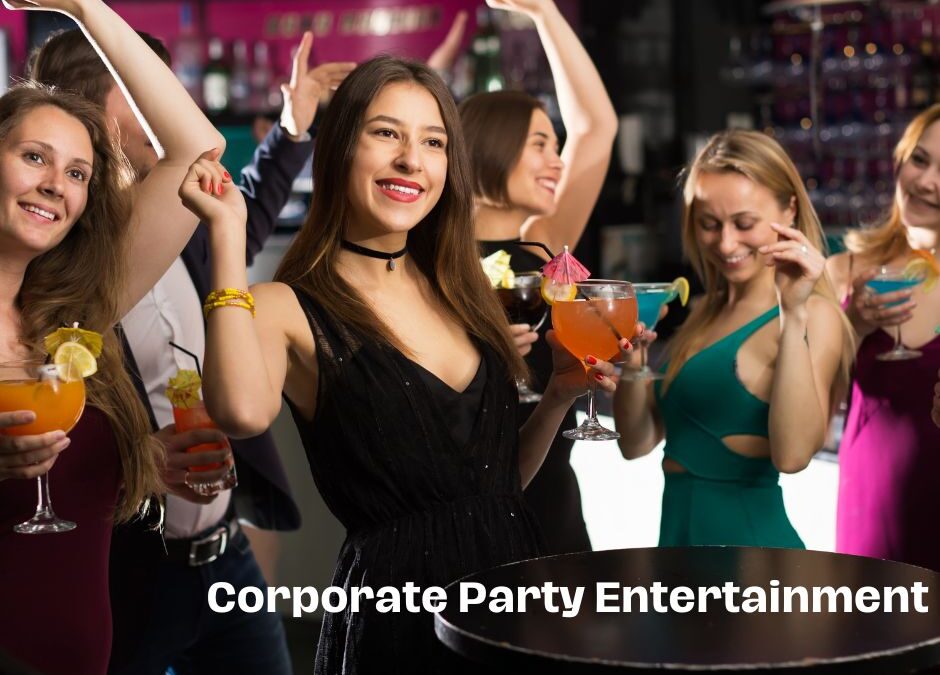 8 Popular Corporate Party Entertainment Ideas to Wow Your Guests

Corporate party entertainment is an essential element to create a memorable and enjoyable social event for your employees.
With thousands upon thousands of options available, choosing the right entertainment can be a exhausting task.
In this article, we will explore various corporate party entertainment ideas that are guaranteed to wow your guests.
Whether it's a live band, interactive games, or unique performances, we have curated a list of must-try ideas to make your corporate party unforgettable.
When planning a corporate party, it is crucial to consider the preferences and interests of your guests.
From interactive experiences like virtual reality games to live performances such as magicians or aerialists, the entertainment options are endless.
Creating an engaging atmosphere can enhance networking opportunities, boost employee morale, and leave a lasting impression on your guests.
By incorporating innovative and entertaining elements, you can create a truly extraordinary corporate event.
Add a Touch of Sophistication & Excitement
For those looking to add a touch of sophistication and elegance to their corporate party, consider hiring a jazz band or string quartet.
The soothing melodies will create a sophisticated ambiance and set the perfect backdrop for networking and conversation.
Alternatively, if you want to inject energy and excitement into the event, consider booking a professional Jazz band.
Their high-energy performances will get everyone on the dance floor, ensuring a night filled with fun and laughter.
In addition to traditional entertainment options, consider incorporating unique elements to surprise and delight your guests.
For example, you can hire a celebrity impersonator to mingle with the crowd, providing an interactive and memorable experience.
Another idea is to set up a photo booth with props and costumes, allowing guests to capture fun moments and create lasting memories.
These unique touches will make your corporate party stand out from the rest and leave a lasting impression on your guests.
Key Takeaways:
The Great Guac Off™️ (Top Choice)
Live Game Shows
Lip Sync, Tik Tok Talent Shows
Live Music
Photo Booths
Cartoon Artists
Magic Shows
Outdoor Event Entertainment Ideas
Conclusion and Final Thoughts
1 – The Great Guac Off – For Your Taste Buds

A popular and exciting corporate party entertainment idea that will surely impress your guests is "The Great Guac Off."
This interactive and competitive event allows participants to showcase their guacamole-making skills in a friendly competition.
The event can be organized in a tournament-style format, where teams or individuals compete against each other to create the best guacamole.
Here's a table that provides an overview of the event:
| Aspect | Details |
| --- | --- |
| Theme | The Great Guac Off™️ (top choice) |
| Participants | Teams or Individuals |
| Competition | Tournament-style format |
| Guacamole | Judges evaluate taste and creativity |
| Prizes | Awards for Best Guac, Most Creative |
| Atmosphere | Fun and lively with music and decor |
As for unique details, the event can be enhanced by incorporating a tasting session, where guests can sample and vote for their favorite guacamole.
This adds an element of excitement and allows everyone to participate in the decision-making process.
In addition, hiring a professional chef or food expert as a judge can amplify the event's credibility and create a more competitive atmosphere.
Pro Tip: To make the event even more memorable, consider providing guests with recipe cards featuring the winning guacamole recipes.
This way, they can recreate the delicious flavors at home and cherish the experience beyond the event.
2 – Live Game Shows – Connect with Your Inner Child

Live Game Shows  Test Your Knowledge and Engage Your Guests!  This is the perfect corporate party entertainment idea to engage and entertain your guests.
Here are 6 reasons why it's a must-try:
Create an exciting and competitive atmosphere with a live game show
Challenge your guests' knowledge in various topics, including pop culture, history, and sports.
Encourage team building and camaraderie as participants work together to answer questions.
Keep everyone entertained throughout the event with engaging trivia rounds, puzzles and interactive gameplay.
Provide a memorable experience that will leave your guests talking long after the party ends.
Customize the trivia questions to fit your company's theme or industry, adding a personalized touch to the event.
For a unique twist, incorporate multimedia elements such as video clips or sound effects to enhance the trivia experience.
This will not only keep your guests engaged but also add an extra level of excitement to the game.
3 – Talent Shows – Lip Sync Tik Tok Challenge
Witness the Superstars within Your Team, a great corporate party entertainment idea.
Here are 3 reasons why:
Extraordinary Skills on Display: From magnificent musical performances to breathtaking dance routines, talent shows captivate with unforgettable displays of creativity and mastery.
Bonding Through Talent: Talent shows provide a platform where colleagues can come together, fostering team spirit and camaraderie in an enjoyable and collaborative atmosphere.
Celebrating Individuality: By giving employees an opportunity to showcase their hidden talents, talent shows foster a sense of appreciation for the diverse skills and abilities within the organization.
Discover hidden talents that are yet to be unveiled, generating excitement and engagement among employees.
With talent shows and lip sync, tik tok challenges, the spotlight shines on the unique capabilities of individuals, creating an inclusive and empowering environment.
Bring in professional judges or mentors can offer valuable feedback and guidance, maximizing the fun experience for participants.
Pro-tip:  Incorporate interactive voting systems that allows for audience engagement, making the talent show more dynamic and entertaining.
By providing rehearsal space and resources, employees can prepare and polish their acts, ensuring a high-quality performance that leaves a lasting impression.
4 – Live Music – To Soothe the Soul

Live Music is an indispensable element for corporate party entertainment. Its significance lies in its ability to create a vibrant and captivating atmosphere. Here are 6 points to consider:
Live performance: A live music experience brings energy and excitement, enhancing the overall ambiance of the event.
Versatility in genres: Live music offers a wide range of genres to cater to diverse tastes, ensuring everyone can enjoy the performance.
Professional musicians: Hiring professional musicians guarantees high-quality performances that leave a lasting impression on guests.
Interactive experience: Live music encourages guest participation, creating memorable moments and fostering a sense of connection.
Customization options: Bands can tailor their repertoire and style to match the event's theme and desired atmosphere.
Elevated guest experience: Live music elevates the guest experience by providing a unique and immersive form of entertainment.
Furthermore, live music adds a personal touch to the event, leaving guests with a sense of joy and fulfillment, making it an ideal choice for corporate parties.
True story: One company decided to surprise their employees with a live music performance during their annual gala.
The talented band played a mix of popular hits, engaging the crowd and igniting a vibrant energy in the room.
This unexpected entertainment created a memorable and enjoyable experience for everyone in attendance, showcasing the power of live music to enhance corporate events.
5 – Photo Booths – Capture the Moment

Photo Booths: Spice Up Your Corporate Party with Fun and Memorable Moments
Looking for a way to make your corporate party unforgettable? Consider incorporating photo booths into your event. Here are five points that highlight the benefits of having photo booths:
Interactive Entertainment: Photo booths provide an interactive and engaging activity for your guests. They can take fun and creative photos together, fostering a sense of camaraderie and enjoyment.
Customizable Experience: With various props, backgrounds, and photo layouts, guests can personalize their photo booth experience. It allows them to express their creativity and showcase their unique personalities.
Instant Keepsakes: Photo booths offer instant prints, allowing guests to take home physical mementos from the event. These prints can be customized with your company's logo, reinforcing brand visibility even after the party.
Social Media Sharing: In today's digital age, photo booths provide an opportunity for guests to share their pictures on social media platforms. This generates online buzz around your event, increasing its exposure and reach.
Lasting Memories: The photos taken in the booth serve as lasting memories of the event. Guests can look back at these pictures and reminisce about the fantastic time they had, reinforcing positive associations with your company.
Also, photo booths can be enhanced with unique features such as GIF creation, green screen effects, and virtual props.
These add-ons can take the photo booth experience to the next level, offering even more entertainment for your guests.
6 – Cartoon Artist

One of the Perfect Entertainment ideas for Your Corporate Party are Cartoon artists.  
They are a unique and delightful addition to any corporate party. These skilled professionals use their artistic talents to create personalized cartoons and caricatures for your guests.
Here are four key points to consider about incorporating cartoon artists into your event:
Interactive Entertainment: Cartoon artists engage with guests, capturing their features and personalities in an entertaining and interactive way. This creates a fun and memorable experience that will leave your guests impressed and engaged throughout the party.
Customized Keepsakes: As they create personalized cartoons and caricatures, these artists provide your guests with unique and customized keepsakes to take home. These artistic mementos not only serve as a reminder of the event, but also as a conversation starter for future interactions.
Icebreaker and Conversational Piece: By having cartoon artists at your party, you provide an icebreaker and a conversational piece that encourages guests to interact with one another. These unique entertainment options spark conversations and connections among attendees, fostering a positive and lively atmosphere.
Suitable for All Ages: Cartoon artists cater to guests of all ages, making them an inclusive entertainment choice for corporate parties. From children to adults, everyone can enjoy the artistic talent and humor brought by these professionals. In addition to these points, it's worth noting that cartoon artists bring a touch of creativity and amusement that can elevate the overall atmosphere of your corporate party.
Pro Tip: Consider having multiple cartoon artists at larger events to reduce waiting times and provide ample opportunities for guests to have their personalized cartoons created.
7 – Magic Shows for Corporate Parties

Magic Shows are a captivating form of entertainment that will leave your guests in awe.
Magic shows have a long history of enchanting audiences and have evolved over time to incorporate new tricks and technology.
With skilled magicians performing mind-boggling tricks and illusions, it is guaranteed to impress.
The artistry and mystery of magic shows make them a popular choice for corporate parties.
These shows provide a unique and engaging experience that will keep your guests entertained throughout the event.
8 – Outdoor Entertainment Ideas
Planning an outdoor event and looking for entertainment options to impress your guests? Here are four must-try ideas that will elevate your event experience:
1 – Energetic Live Performances
Bring the outdoor space to life with dynamic live performances.
From acrobats and dancers to musicians and magicians, choose acts that match the theme and ambiance of your event.
Their energy and artistry will captivate your guests and leave a lasting impression.
2 – Interactive Game Zones
Create excitement and engagement with interactive game zones.
Set up fun activities like giant Jenga, bean bag toss, or inflatable obstacle courses. Encourage friendly competition among guests and offer prizes for winners.
This will ensure everyone has a great time and fosters a sense of camaraderie.
3 – Outdoor Cinema Under the Stars
Transform your outdoor event into a magical cinema experience. Set up a large screen, cozy seating arrangements, and provide popcorn and blankets.
Show classic movies or host a movie marathon. The enchanting ambiance of watching movies under the stars will create a memorable and relaxing atmosphere.
4 – Silent Disco
Take your event entertainment to the next level with a silent disco. Provide wireless headphones to guests and let them choose from different music channels.
This fun experience allows people to dance and enjoy music without disturbing others. It adds a fun twist to traditional outdoor parties and keeps everyone entertained.
For a truly unforgettable outdoor event, consider incorporating these ideas that haven't been covered already:
5 – Glow-in-the-dark Activities
Illuminate your event with glow-in-the-dark activities.
From glow-in-the-dark mini golf to glow painting stations, these activities create a mesmerizing atmosphere when the sun sets.
They add a touch of novelty and excitement, enhancing the overall experience for your guests.
Conclusion and Final Thoughts
There are numerous exciting and unique entertainment options available for corporate events.
By carefully selecting the entertainment that aligns with the company's goals and values, it is possible to create an unforgettable experience for attendees.
Incorporating interactive activities and live performances can significantly enhance engagement and leave a lasting impression.
By considering the diverse range of options presented in the reference data, companies can ensure that their corporate parties are both entertaining and memorable.
It is crucial to note that each entertainment idea described serves a specific purpose and has its own set of benefits.
For instance, incorporating a live band or DJ can create a vibrant and energetic atmosphere, encouraging attendees to relax and enjoy themselves.
On the other hand, hiring professional dancers or acrobats can provide a visually stunning spectacle, capturing the attention of the guests and adding a touch of elegance to the event.
In addition to the primary entertainment options, the reference data highlights the importance of interactive activities.
Incorporating team-building exercises, such as live game shows or virtual reality experiences, can encourage collaboration and foster stronger connections among colleagues.
Furthermore, offering unique experiences like tarot card readings or caricature artists can add an element of novelty to the event, keeping attendees engaged and entertained throughout the evening.
FAQs:  10 Must-Try Corporate Party Entertainment Ideas That Will Wow Your Guests!
What are some fun corporate party entertainment ideas?
Some fun corporate party entertainment ideas include photo booths, magic shows, celebrity impersonations, circus shows, aerial bartenders, escape rooms, and talent shows.
How can corporate party entertainment activities improve brand image?
Corporate party entertainment activities can improve brand image by offering guests a memorable experience.
When attendees have a great time at the event, they associate that positive experience with the brand, which can create a lasting impression and improve brand perception.
What factors should be considered when selecting corporate party entertainment?
When selecting corporate party entertainment, consider the event's theme, venue, party goal, and brand image.
It's important to choose activities that align with these factors to ensure a cohesive and enjoyable experience for the attendees.
What types of corporate events are suitable for these entertainment ideas?
These entertainment ideas are suitable for a variety of corporate events, including office parties, corporate holiday parties, employee appreciation day events, customer appreciation day events, and conference events.
How can photo booths contribute to the entertainment at corporate parties?
Photo booths are a popular entertainment option at corporate parties as they provide guests with a fun activity and create lasting memories.
They encourage interaction and laughter among attendees and provide keepsakes for guests to treasure long after the party ends.
How can cartoon artists enhance the entertainment at corporate events?
Cartoon artists can enhance the entertainment at corporate events by drawing comically exaggerated portraits of employees.
Guests can share the final results with their teams and take home a fun and unique memory of the party.
Planning a Fun Corporate Party?



Book a live game show experience today!
Contact us for further details.
For Immediate assistance by text – 917-670-4689
No deposit required.
We plan and facilitate all activities.